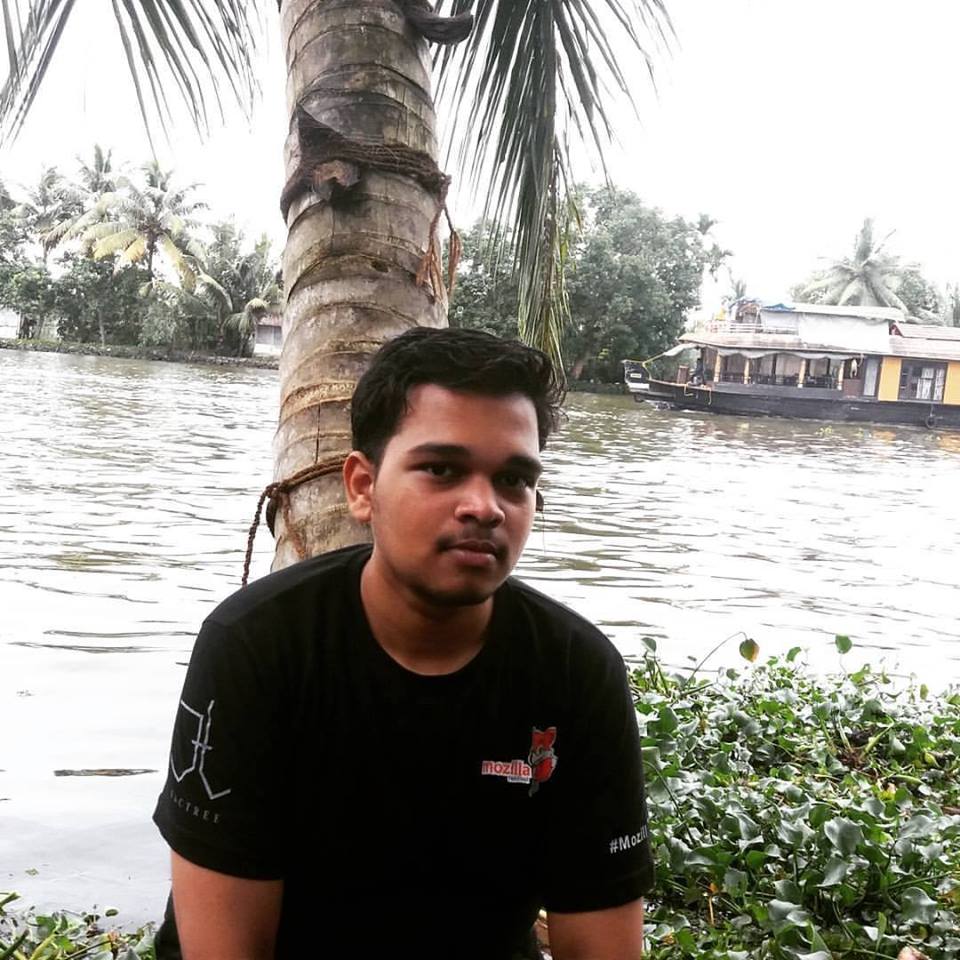 Hello
I'm Sriram
Tech Enthusiast | Code Addict | FOSS Contributor | Mozillian | Engineering Student | Open Source Evangelist
Work Skills
Mobile Application Development
Education
2014 - 2018
KGiSL Institute of Technology
Bachelor of Engineering - Computer Science and Engineering
2000 - 2014
Sri Ramakrishna Matric Higher Secondary School
SSLC and Higher Secondary
My Interest
Gallery
MY WORKS
Raspberry Pi
Tried to create a video on how to assemble a Raspberry Pi kit.
This video shows you how to assemble a Kano Raspberry pi kit
Google Signout
Created a Firefox browser Extension called Google Signout, that signs out all the google accounts logged in the browser.
This will sign out all google accounts from the browser, just in one click
Search Selection
Created a Firefox browser Extension called Search Selection, that enables us to search selected text in popular search engines
The addon will search for selected word in popular search engines. Select the text right click -> Search Selection -> Preferred Website to get your result.
MD5 Hash Generator (Android)
Created an Android application, that generates MD5 hash for the given string.
Tamizh Visai (Web)
Created a simple Tamil Keyboard using Bootstrap and Java Script
null
Tamizh Visai (Android)
A simple Android Tamil Keyboard Application.
Simple Stop Watch (Android)
A simple Android Stop Watch Application.
Blogs
Read writing from Sriram on Medium. Engineering Student | Open Source Evangelist | Mozillian | CoderDojo Mentor. Every day, Sriram and thousands of other voices read, write, and share important stories on Medium.
Hello World! TDD which is the abbreviation of Test Driven Development , is a software development process, that relies on th e Code and Test Case. It has a sequence Developer tries to write a code Tester tries to write a valid test case, that makes the code to fail.
Hello World! Robotic Processing Automation known as RPA is an emerging technology, that automates a process in computer using Software Robots. Robot is a term that refers to a software or application that replicates the action of user and communicate with the system user interface.
Hello World! Rust is a system programming language with the goals Safety, Speed and Concurrency. Rust is good in embedding with other languages. It has a number of compile time safety checks that eliminates the data races. How to install? For and , open the terminal and enter the following command.
Hello World! I tried to create a website for myself. It is a simple web page built using HTML, CSS and some frameworks like Bootstrap, Materialize, Font Awesome, etc. When I tried to embed my medium blogs using tags, it showed a blank space. The code that I wrote was Your browser does not support iframes.
Hello World! I tried to make python to speak the words, that I type in my output console. How is it possible? With the espeak command that can be used in Linux Operating system. How to do it? We require a Linux/Unix operating system. First we need to install the espeak command.
The Firefox Quantum Sprint took place on 8th October 2017 at Prozone Mall, Coimbatore. On the evening of 8th October2017, Mozillians from Coimbatore gathered at Prozone Mall, Coimbatore, to test the Web compatibility of Firefox Quantum Beta 57. Me along with my friends Aravind Arul, Vignesh Kumar, Akksaya Rajasri participated in the sprint and represented KGISL Mozilla Campus Club.
Hello World! Playing with python has become my hobby nowadays. Being a Tamil enthusiast, I tried to print some Tamil text in python. Thirukkural is a Tamil Literature that consists of 1330 couplets, that deals with everyday virtues of an individual. It was authored by Thiruvalluvar , who lived in 300 BCE, at Thiruvallikeni (Currently in Chennai,India).
Web World Wind is a 3D virtual globe API for HTML5 and JavaScript. By including the web world wind in web pages, we can create one or more virtual globes. We used the Web World Wind API for creating...
Hello Friends, I went for an event called " Open Web Challenge" conducted by THE GEEKS EVENT . I would like to share what I have learned there. To start with, first check whether npm is installed in your computer. To check, just type the below command in your terminal Window.
Past: CoderDojo is a global movement which was originally founded by James Whelton and Bill Liao. It all started in James Whelton's school in early 2011 when James (then 18 year-old coder) received some publicity after hacking the iPod Nano and as a result some younger students expressed an interest in learning how to code.
Again, you can't connect the dots looking forward; you can only connect them looking backward. So you have to trust that the dots will somehow connect in your future. You have to trust in something — your gut, destiny, life, karma, whatever. This approach has never let me down, and it has made all the difference in my life.

- STEVE JOBS, Founder Apple Inc. Man needs his difficulties because they are necessary to enjoy success.

- Dr. APJ ABDUL KALAM, Former Indian President தேடிச் சோறுநிதம் தின்று
பல சின்னஞ்சிறு கதைகள் பேசி
மனம் வாடித் துன்பமிக உழன்று
பிறர் வாட பலசெயல்கள் செய்து
நரை கூடி கிழப்பருவ மெய்தி
கொடும் கூற்றுக் கிரையெனப்பின் மாயும்
பல வேடிக்கை மனிதரை போலே
நான் வீழ்வேனென்று நினைத் தாயோ?

- பாரதியார், Freedom Fighter, India தோன்றின் புகழொடு தோன்றுக அஃதிலார்
தோன்றலின் தோன்றாமை நன்று.

- திருவள்ளுவர் (குறள் — 0236)
Contact
Address
2/233, Kumarapuram,
NSN Palayam[post],
Coimbatore - 641031,
Tamil Nadu,
India